Spring Clean Your Heart and Home!
In this 8 week course and group life coaching program, we will tackle those areas of our lives that are causing us stress and come up with a plan to conquer the chaos and overwhelm!
Starts Wednesday March 16th!
Are you ready to create a plan and vision to gain clarity and control in your heart and home? 
Hey momma, it is time to…
Stop feeling defeated and become the hero of your own life!
God has created you with amazing gifts that only you can share with your world! But often in the daily grind of life, we lose sight of our dreams and vision.
We don't have a plan or direction so we find ourselves drifting, responding rather than being proactive, and feeling like we are spending our precious days spinning in circles.
It's time to break free from the patterns that are holding you back and create traction to build the life you truly want. Often times our outer life is a reflection of the choas inside ourselves. Controlling the clutter and building empowering habits and routines is the key to making progress!
Feeling like a hot mess is optional!
This 8 week program will give you the tools and coaching you need to gain clarity and confidence in order to take control back from the chaos. We will work on cleaning up your home AND your heart in order to build nourishing routines, simplify, and creating sustainable habits.
A step- by-step framework
Group life coaching calls
A private Facebook support community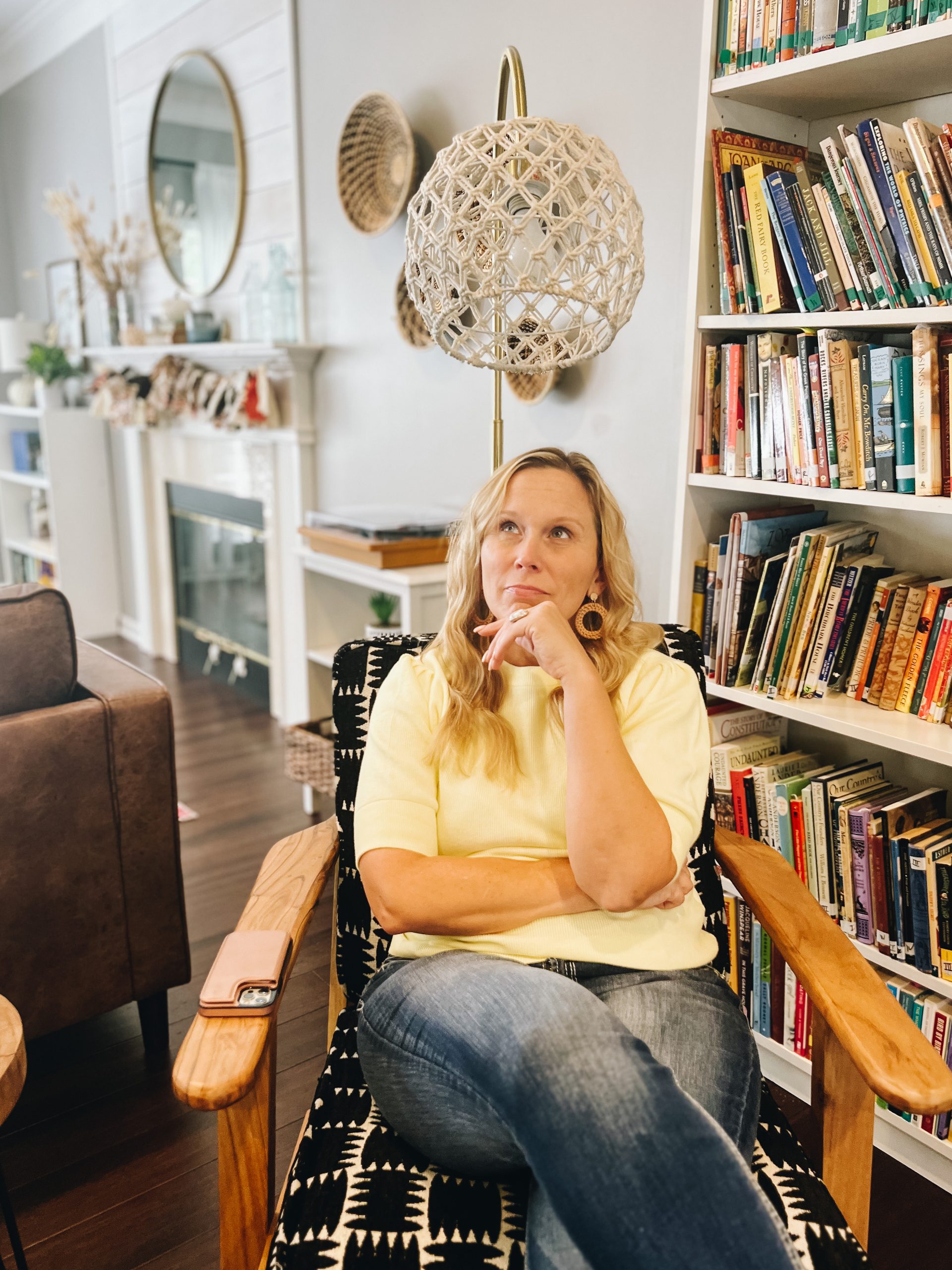 About Me
Hey, I'm Julie Ross.
I'm the founder and CEO of A Gentle Feast, a Charlotte Mason homeschool curriculum. I am also the host of the podcast, The Charlotte Mason Show, and a keynote speaker at multiple homeschool conventions.
While chatting with so many mommas, I have seen that many don't necessarily need more help with curriculum or book choices. Their real struggle is in their mindset and lack of confidence to do what they feel God is calling them to do. They feel stuck and lack direction on how to create lasting change in their lives.
After years of benefiting from having my own life coach, I decided to become a Christian life coach myself so that I could help more moms find true joy, purpose, and positive transformation. 
I've seen in my own life the power of cleaning the clutter, developing a plan for intentional action, and creating nourishing routines and habits.
I can't wait to have you join me for this 8 week course. I'm looking forward to seeing all the growth, learning, and transformations! I know the power of making an investment and commitment to yourself.
I can't wait to have you join me as we clean up the mess- our clutter, our thoughts, our time, and our relationships. I want to help you stop feeling defeated and show you how to move forward from a confident, empowered stance. Let's clean this mess!
This 8 week course will help you with…
Cleaning your mental ruts
When are the weekly calls?
These will be on Wednesdays at 2:00 pm EST. Don't worry if you can't make it live, the replays will be in your course portal within 48 hours.
What other support will I receive?
In our private Facebook group, you will be able to collaborate with other group members, ask questions, and celebrate each other's wins! Community is what allows true growth!
Is this only for homeschool moms?
No. All moms can benefit from doing a spring cleaning of their homes and hearts. However, since my audience is primarily homeschool moms, I will give examples and tips to gain control over this area as well.
How long will the course take each week?
Our video calls will last about an hour. Then I would plan on an additional 30 min-1 hour during the week to complete the assignments.
It's time to Spring clean your heart and home.
It's time to stop just thinking about getting your life in order. It's time to take back control!
For only $67, the cost of a fancy latte each week, you can give yourself the gift of transformation instead. A new sweater at that price will be out of style in a few seasons, but the changes you have the opportunity to make inside yourself in these 8 weeks will ripple through your life for years to come. Give yourself a gift that will last- an investment in your own dreams and potential.
"I believe that the greatest gift you can give your family and the world is a healthy you." – Joyce Meyer
"Sow an act, reap a habit. Sow a habit, reap a character. Sow a character, reap a destiny." 
– Charlotte Mason