Homeschooling can be hard work!
Sure, it can be a lot of fun to scour book sales and search the internet for the perfect resources for your family. Sometimes, that just isn't realistic.
Maybe, you are new to homeschooling and intimidated by all the resources out there.
Perhaps, you are a homeschool veteran who is in a season of life where your time is greatly limited. Or, you've become burnt out by trying to carry too much of the load on your own.
Possibly, you are unsure how to implement Charlotte Mason's practices with multiple children.
Perchance, you want to provide your children with a rich and varied educational feast, but you aren't sure where to begin.
A Gentle Feast may be just what you are looking for.
A Gentle Feast can help you spread a feast of living ideas with tools, plans, and resources to give rhythm, beauty, and peace to your homeschool days.
I'm in love!!! It's so refreshing to wake up and know exactly what is to be done. My kids thrive with routine and knowing what is expected of them. AGF fits our family like a glove. 
? I'm one happy mama
. Also, I love that my kids are being exposed to the beautiful things and people that so many PS kids never hear of.(myself included) this curriculum is rich, beautiful, soul feeding and fun. All the things I have wanted for my homeschool.
Where to start? Choose your history year.
Your entire family will be in the same color.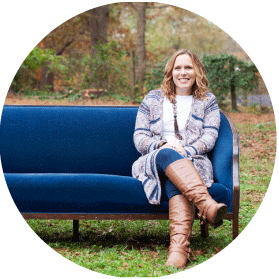 Hi! I'm Julie.
I created a Gentle Feast because it is what I wish I had when I first started out homeschooling. I had read "For the Children's Sake" by Susan Schaeffer Macaulay when I was still teaching public school. I remember grieving because I wanted to provide this rich education for my students but was unable to do so in the constraints of the school system. When I started homeschooling my own children, I remembered this book and searched for how to create that learning environment in our home. I was overwhelmed with the different homeschooling options out there. I longed for a guide that would show me how to create a homeschool rooted in Charlotte Mason's methods and philosophies that was user friendly and family centered. I couldn't find anything that fit my family and ended up spending hours trying to piecemeal a plan together. I had three kids under the age of three while trying to homeschool two elementary children, and it all was too overwhelming. I ended up quickly burning out. I wish I'd had a guide like this to get started. Following A Gentle Feast has breathed life and beauty into our homeschool. I pray it will bless your family as well!