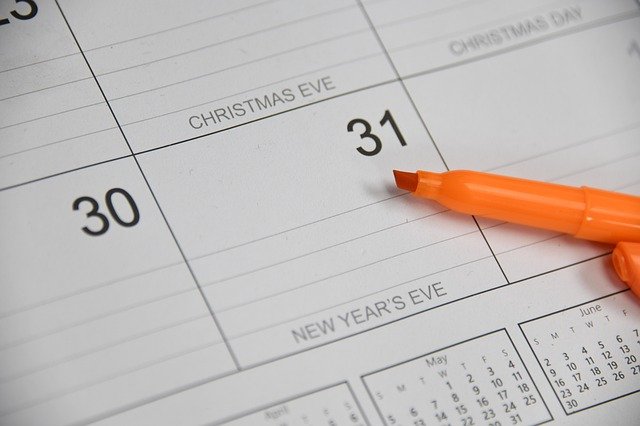 It's my favorite time of the year! Yes, I know Christmas is over and according to the popular song, it is THE most wonderful time of the year. Yet, as much as I cherish the traditions and lazy days of Christmas, I LOVE the start of a New Year. I mean giddy, over the top, do a little happy dance kinda love. So as I sit down to reflect and dream for 2021 I thought I would share some of my goal love with you!
For the past seven years, I have used these sheets to help me reflect on the past year and write out my goals for the new. Spending devoted time for this process has been life-changing. Big decisions and important insights have come from devoting time to prayer, Scripture reading, and reflection. Now I wouldn't want to start my year any other way.
So, where to begin? First, block off time on your calendar. I know it can be hard to find spare moments in the midst of holiday craziness, so blocking off the time is key to making it actually happen. There is nothing magical about going through this process the first week in January. If you can't find time until later in the month, don't fret. This process is split into three parts. You may want to block off three mornings or evenings to sneak to a coffee shop or lock yourself in a closet:). If you are able, you might take an entire day away and do the entire packet all together. I typically take a week to go through these sections. I go away for a morning and do the first part, and then I let the information stew in my soul for a while and chew on all I hear God guiding in my heart. Then, when I feel ready, I will prayerfully start on the next section.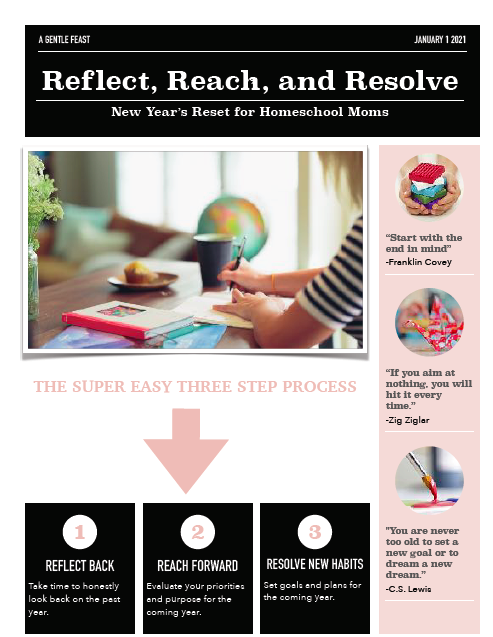 Step 1: Reflect
"We enter into solitude first of all to meet our Lord and to be with Him and Him alone. Only in the context of grace can we face our sin; only in the place of healing do we dare to show our wounds; only with a single-minded attention to Christ can we give up our clinging fears and face our own true nature. Solitude is a place where Christ remodels us in his own image and frees us from the victimizing compulsions of the world."

― Henri J.M. Nouwen, The Way of the Heart: The Spirituality of the Desert Fathers and Mothers
Reflect on the year that is past. It is easy to go from one year to the next and never pause to notice how God was at work. A stroll through social media can trigger memories and remind you of the goodness of the year. Praise God for the blessings and lessons learned. You may have painful experiences from the year, allow yourself the time to grieve and sense God's comfort.
Step 2: Reach Forward
Where there is no vision, the people perish: but he that keepeth the law, happy is he. – Proverbs 29:18, KJV
Reach forward to dream about the year to come. Picture yourself doing this same process at the end of 2021 and ask what you would like to be different in your life. This will help you write meaningful goals in the next step.
If the new year looks like murky waters with no clear direction and lots of unknowns, I encourage you to focus on what God is calling you to do right now!  Several years ago, I wasn't able to make New Year's Goals as I would have liked. We had a job loss, and the future was completely up in the air.  As I thought about the coming year, I felt as though I was looking over a cliff, peering down into the raging rapids waiting for God to say, "jump".  If this sounds like you, I want to encourage you with this verse:
Whether you turn to the right or to the left, your ears will hear a voice behind you, saying, "This is the way; walk in it."- Isaiah 30:21
He will slowly light your path as a motion detector street light may. Right now, He is simply calling you to trust, do good, dwell, and be faithful (Psalm 37:4). It can be overwhelming to think through the entire year. Just focus on January – May. Take the first right step.
Step 3: Resolve
Now to the fun part. This is where you will write goals to help you obtain the vision God has given you for 2021. Remember, start small and create actionable steps. The packet I created includes specific areas you may want to consider. Here are some further questions to consider as you write your goals.
1. WHY do you want to achieve this goal?
When we write out our New Year's goals, we often think in statements of WHAT.
For example, I want to lose 20 pounds.  Well, why do you want to lose 20 pounds? Is your goal really that you want to get healthy, to eat better and exercise more? Why is it important to you to be healthy? Is it that 5 years from now you want to be able to maintain a healthy, active lifestyle to ward off potential disease and enjoy your family/friends/career? Is it that you want to set a positive example for your children? Is it that you feel better emotionally and spiritually when you have been a wise steward of your physical body?
Or maybe you want to get out of debt. Why? How will your life be different once you are debt free? Will it change your lifestyle, your family's future, or the way you give?
Why ask why?
Your WHY has to be bigger than your WHAT!
At some point losing 20 pounds or getting out of debt really sucks! I mean it gets really, really gets hard. One morning you are going to have a major internal battle as to whether you should get out of your warm comfy bed and go to the gym. You will have to fight to keep yourself from getting that second helping. If you are trying to get out of debt, there will come a time when you don't get to do something all your friends are doing because you don't have the funds. What's going to keep you following your goal? Your WHY. What's going to keep you from giving up after you have had one set back (or several)? Your WHY. Your WHY has to be bigger than your WHAT. (for more information on this concept, or with help formulating your why – see here)
2. WHO are you?
This seems like a silly question, but self-knowledge is foundational to creating sustainable and achievable goals.  How God has wired you. What do you love to do? What makes you break out in hives with anxiety? What are your strengths, talents, interests? What weaknesses are holding you back? 
I have made goals in the past based on what I saw in other people and wanted for myself, but they weren't really what I needed to be doing. Your goals are about YOU. Make them personal!
A personality test can be very helpful in this area. If you haven't taken one or haven't in a while, it can be helpful to know what your natural bent is. For example, I'm an introvert, which means I am energized by being alone. Therefore, one of my goals should be focused on this self-care. An hour-long walk, time to read daily, writing time, all have to be a part of my routine or it's not pretty. Learning that about myself has given me greater freedom to make regular time alone a priority without feeling guilty or selfish.
I highly recommend the following:
Myer's Briggs Personality Test
http://www.16personalities.com/free-personality-test you can take a free test here and I found it to be very accurate.
2. Enneagram Test
https://tests.enneagraminstitute.com/ (There are free ones as well, but this one is the most in depth)
Whether you like personality tests or not, the key is to spend some time considering who you are before writing out your goals. God created you and called you for this beautiful, messy journey of life. Only YOU can embrace your journey.
This motivational video from Matthew McConaughy is helpful to think through your priorities.
3. WHICH tools do you need to achieve this goal?
We are so blessed to live in such an informational age. If you have a specific goal, you can easily get information on how to reach it. Start a Pinterest board, find some books, ask friends on Facebook for information, follow those on Instagram who excel in that area. Olympic athletes have a team of coaches to help them obtain excellence. What people, books, websites can you utilize for tips? Do you have a trusted friend or family member you can talk through your goals with? How can they keep you accountable?
4. WHERE are you going to start?
It can be overwhelming to think about all you want to accomplish. Start with one thing. Pick a focus word for the year. 
When that one thing becomes easier, start on another goal.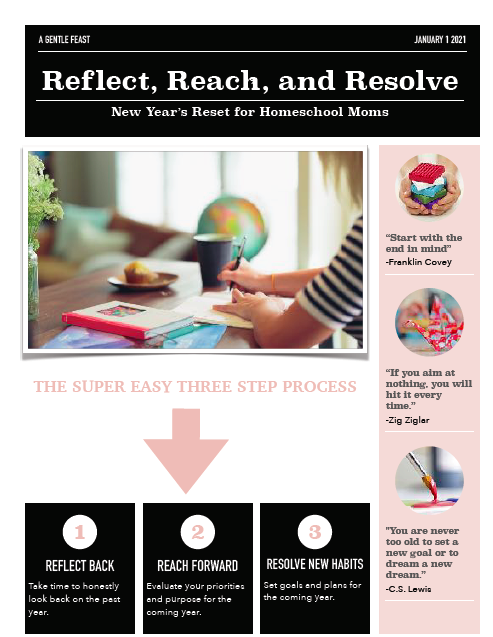 CLICK ON THE IMAGE TO DOWNLOAD YOUR FREE GOAL SETTING PACKET
WANT ME TO HELP YOU WALK THROUGH THE ENTIRE PACKET? Click HERE to watch a video I made in 2018 to explain the process in depth.
Additional Resources:
1. For the Children's Sake by Susan Shaeffer MacCaulay
2. The Power of Habit: Why We Do What We Do in Life in Business by Charles Duhigg
3 .Mother Culture by A.
4. The Atmosphere of Home by M. F Jerrold
5. Parents and Children: steps to change a habit
Hoping you have a healthy and blessed 2021!