A Gentle Feast
A Charlotte Mason Curriculum for the Entire Family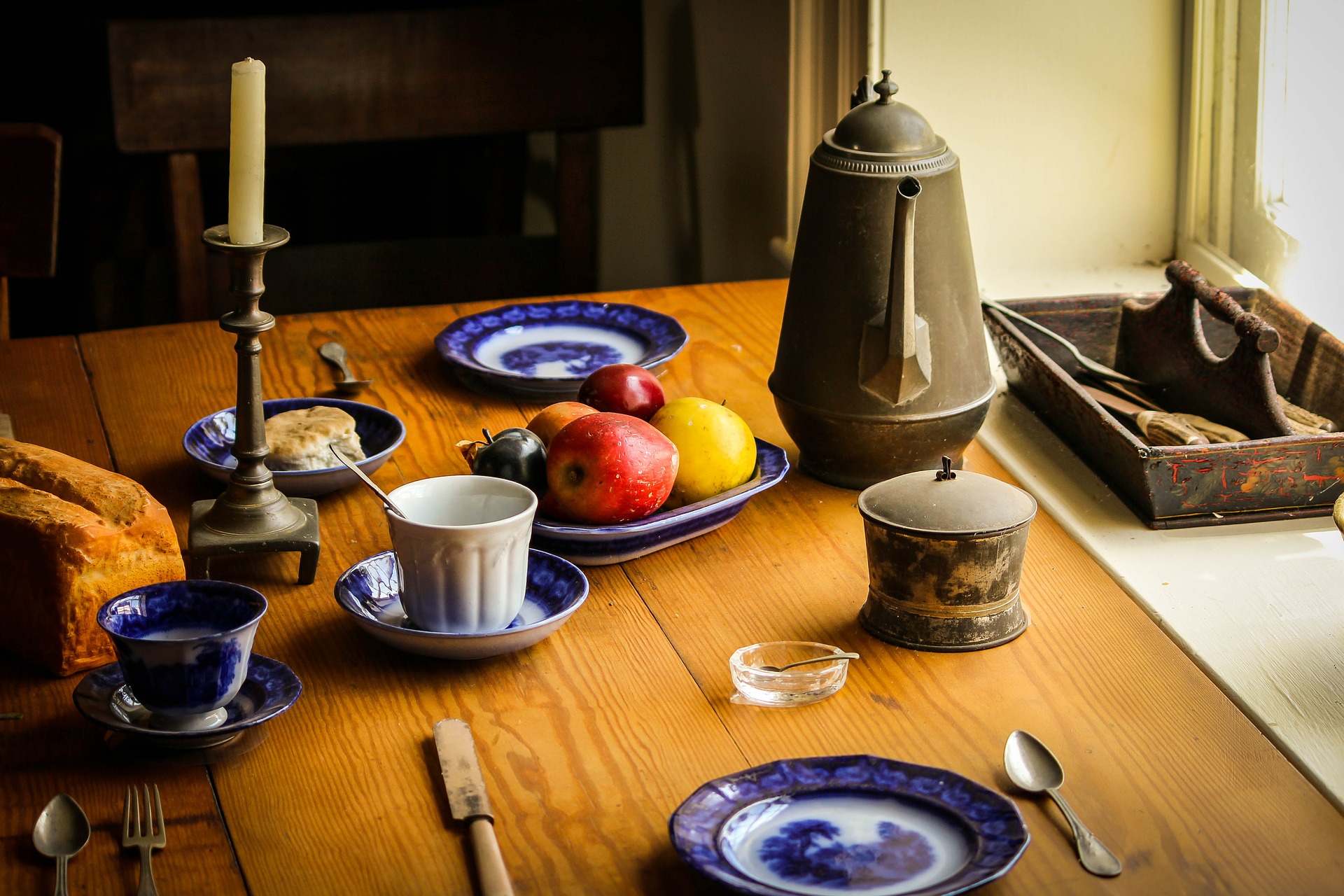 Family-Centered
In a morning time routine, the entire family will be together to work on many subjects. You will not need to read multiple books to multiple children. This plan brings your family together as much as possible.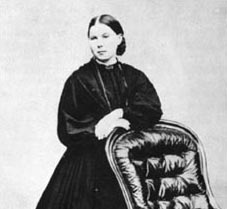 Charlotte Mason Inspired
Inspired by the teachings of English educational philosopher and teacher, Charlotte Mason, this curriculum is a feast of living ideas presented in a format consistent with Miss Mason's philosophy and principles.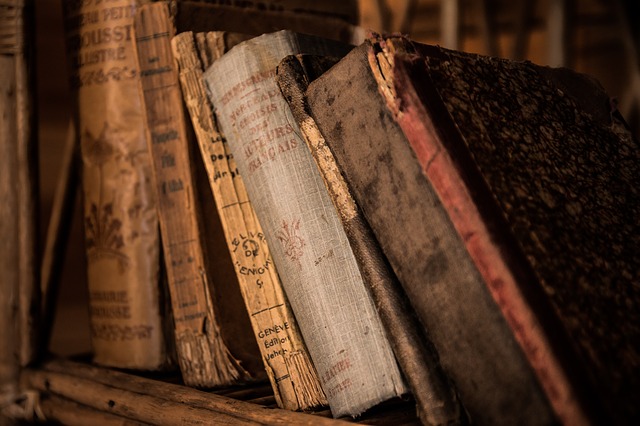 A Living Approach
This curriculum is deeply steeped in books, beauty and Biblical truth. It is gentle to both mom and child while providing a firm academic foundation through a delightful approach to learning.
A Gentle Feast has four cycle years of curriculum based on a four year History rotation modeled after the programmes of Charlotte Mason. To find out more about how Miss Mason scheduled History, see THIS POST. To choose the year that is right for your family, see the diagram below. Your family will all be in the same color year in order to study the same time period. The following year, you will move one year forward in the cycle until you start back again with the Green Year.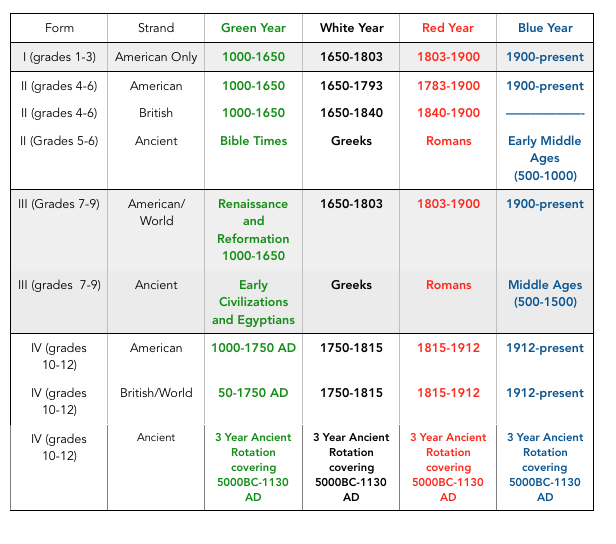 A Gentle Feast is divided into Forms rather than traditional school grades. This chart explains these forms.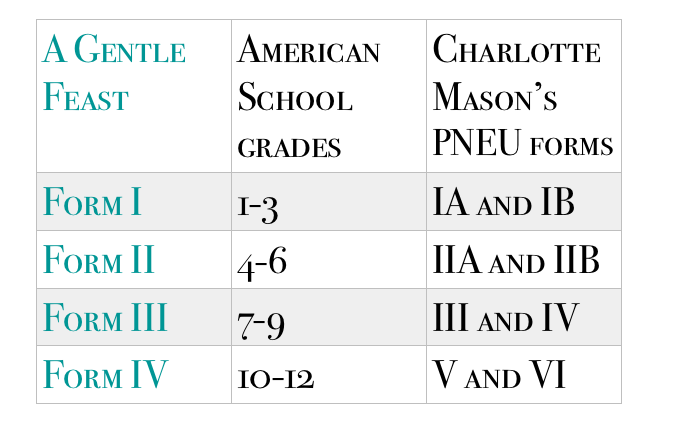 You can have all the tools you need to provide your family with a rich Charlotte Mason educational feast in just 4 easy steps:
Choose a history cycle color year to start with:
Most people will start with the Green year, depending on how much American history you have already covered.
Purchase the Parent Resources Bundle:
You will only need one of these for the color year you chose.
Purchase the Student Language Arts Packets:
You will need a packet for each form you have children in. You are allowed to make copies of packets for immediate family house. The bundle allows you to purchase all 4 packets at a big discount. 
Get your books:
Have fun downloading and purchasing the rich living books used in this curriculum. 
What other homeschool families have to say about A Gentle Feast…
A Gentle Feast is exactly what the Charlotte Mason homeschool common has been hungry for. A well designed, step by step curriculum, complete with videos, guidance, and support. Julie has chosen the best of the best books, including some modern books, written our weekly plans in each subject, and includes creative and copywork pages. Perfect CM reading lessons too! Oh and it's large family friendly, so you're not doing a billion different things at the same time! This is the hand holding I wish I had when I started following Miss Mason's philosophy all those years ago. I am so grateful for Julie and A Gentle Feast.
We have been using A Gentle Feast Morning Time packet this year and love it! Without my having to select & find resources on my own, this schedule has brought a much-needed sense of order to our mornings and a foundation of truth & beauty to our days!

My kids are ages 4, 6, & 8, and we had yet to memorize a Scripture passage as a family. Doing so has become a nurturing part of our family culture, as has poetry recitation.

We have started implementing other aspects of AGF as well, and while there are many great living books out there, it's so helpful to me as a busy mom to have them already chosen for me & a schedule all laid out.

I feel like AGF offers the all-in-one convenience of a "big box" curriculum along with the many benefits of real, living books.

 As a frugal mom, I also appreciate the flexibility of being able to borrow library books or buy used books instead of new ones.

AGF is really the only way I feel like a CM approach is accessible to me, considering my many other commitments in life.

Julie selects the best of the best, & like the name of this curriculum implies, it's a gentle approach and not at all overwhelming.

An added bonus is the Facebook community and Julie's accessibility. She responds to questions & suggestions graciously, offering the hand-holding I often need.
A Gentle Feast has been like a big breath of fresh air. As a homeschool mom in my 18th year, I've almost tried it all. I have been so intrigued by the Charlotte Mason philosophy for most of my homeschool years, but couldn't seem to wrap my head around "whole hog" Charlotte Mason. I was very intimidated by other CM resources and I just felt plain dumb when perusing  them. I'm certain the Holy Spirit led me to AGF.  I had never even heard of it until someone mentioned it in a Facebook post. I went to the site and immediately felt like I was home. I bought the white year plan, printed it, and implemented it, all within a week. By the third week I had sold all of my old curriculum that had a Charlotte Mason "twist" but also had twaddle. My kids are happy, and I am relieved. It's been the best thing I've done in our homeschool in at least 10 years. Thank you so much!
A Gentle Feast … does a fine job of helping you develop a manageable flow to your curriculum while ensuring that your schedule includes time for learning the Bible, learning to appreciate and love good literature, and developing an appreciation for beauty through the arts and nature.
I can't rave enough about A Gentle Feast. For 5 years I have been hodge-podging our curriculum. I lacked a rythmn and reason. It was reflecting in my children's mood for school.
After fully jumping into the Charlotte Mason way a year ago, I was overwhelmed with finding our groove.
AGF was our answer, the material flows so nicely together. Giving us reflection and time for things to soak in.
By far the best component is the phonics forms that also go along with the bigger picture. Helped my reluctant reader come out of her shell, with the copy work relating to the material and vocabulary.

Thank you Julie!!
Find out more about each History year: