A Gentle Feast is packaged into three components.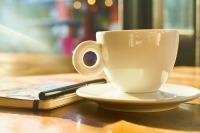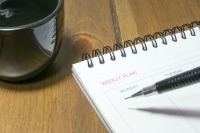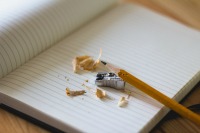 Morning Time packets contain everything you need to bring your entire family together to start the day off with Bible Time and a loop of subjects that fill their hearts and minds with beautiful things. The Beauty Loop consists of Poet Study, Picture Study, Composer Study, Hymn Study, Recitations, and Fables/Hero Tales. 36 weeks of plans and resources are included. A suggested Bible reading sequence and memory verses are also included. All poems for poet study, hymn lyrics and recitation selections are included. Picture selections and musical compositions are hyperlinked. Just wake up, open the plans, and you are ready to enjoy this special time building a shared family culture around books, beauty, and Biblical truth.
Parent Packets are the foundation of A Gentle Feast. In these packets are the tools you need to provide your family with 36 weeks of a rich learning feast of living ideas. The packets include:
Detailed explanations of the curriculum
Notes on narrations
Tips on scheduling a gentle feast
Sample schedule and recording sheet
Weekly plans for every subject except for math and foreign language
Booklists
AND….best of all, access to a special website with all the links you need plus even more resources!
Student Packets for forms I- III are available to coordinate with A Gentle Feast. The student packets provide students a copy of the Bible memory verse, hymn lyrics, poems for recitation, and weekly selections for copywork and dictation. Creative writing and drawing prompts (forms I and II) are also given to add delight to the Language Arts block. All selections coordinate with that terms' readings in A Gentle Feast. This downloadable product provides an easy tool for the students to use while also providing the parents a collection of their child's writing for the year.
What other homeschool families have to say about A Gentle Feast…
I can't rave enough about A Gentle Feast. For 5 years I have been hodge-podging our curriculum. I lacked a rythmn and reason. It was reflecting in my children's mood for school.
After fully jumping into the Charlotte Mason way a year ago, I was overwhelmed with finding our Grove.
AGF was our answer, the material flows so nicely together. Giving us reflection and time for things to soak in.
By far the best component is the phonics forms that also go along with the bigger picture. Helped my reluctant reader come out of her shell, with the copy work relating to the material and vocabulary.

Thank you Julie!!
Melody
A Gentle Feast makes me wish I could go back and start homeschooling all over again! I resonate so deeply with the Charlotte Mason's teaching philosophy and methods, but never thought that I could pull off using it practically in my home school.  A Gentle Feast is laid out so simply and flows together nicely, giving structure and routine suggestions, but not rigid schedules. My favorite aspect is the morning time resources with links to hymns, classical music, poetry, and beautiful artwork. I also love that you can easily combine multiple levels, which has been a challenge for me with 5 kids.
I know Julie personally, and I can attest to the fact that she knows education inside and out. She is passionate about this work, and A Gentle Feast reflects her knowledge and professionalism. Julie also provides great additional resources for help and makes herself personally available for questions. I highly recommend this curriculum to anyone wanting to give their children a rich home education.
Kerri Roberts
A Gentle Feast … does a fine job of helping you develop a manageable flow to your curriculum while ensuring that your schedule includes time for learning the Bible, learning to appreciate and love good literature, and developing an appreciation for beauty through the arts and nature.
Cathy Duffy
A Gentle Feast is a Charlotte Mason Curriculum for the entire family built upon a rhythm and routine similar to that of a four course meal.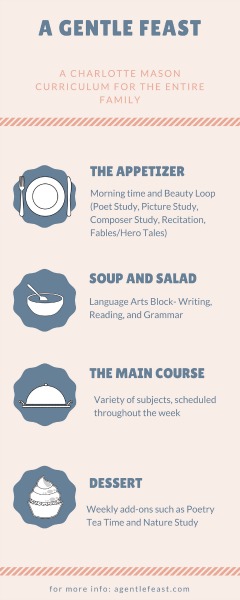 A Gentle Feast has four cycle years of curriculum based on a four year History rotation modeled after the programmes of Charlotte Mason. To find out more about how Miss Mason scheduled History, see THIS POST. To choose the year that is right for your family, see the diagram below. Your family will all be in the same color year in order to study the same time period.