Beginning Reading, Sight and Sound – Level 1 – 2023 Version (Digital)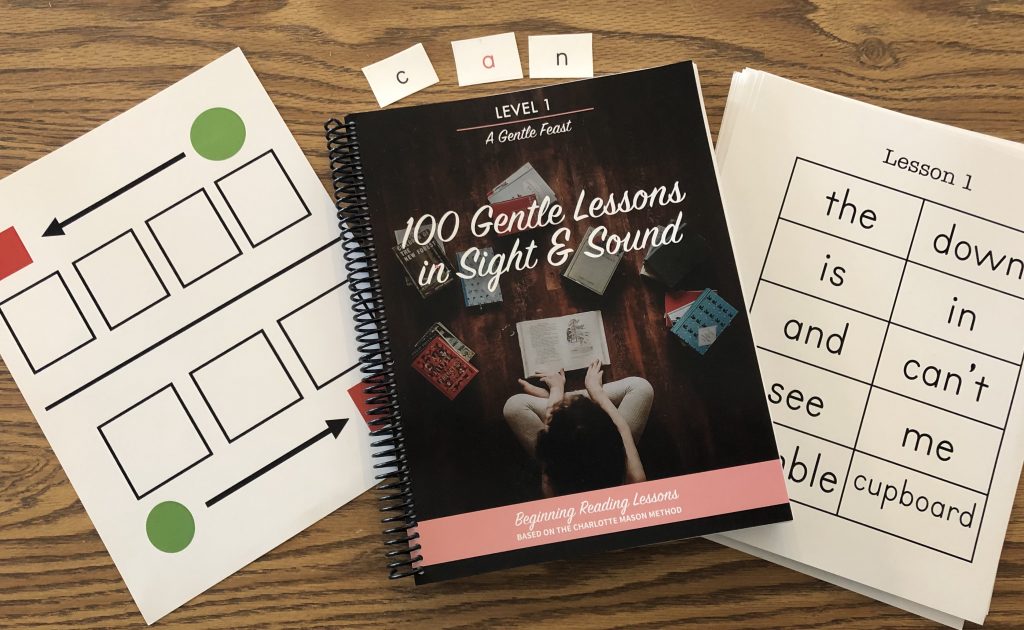 100 Gentle Lessons in Sight and Sound Level 1 teaches phonics and sight words to beginning readers through popular nursery rhymes. Following Miss Mason's philosophy on teaching reading, the students learn interesting words by sight and sound out word families related to the poetry.
Students will learn over 100 sight words including high frequency words such as "little" and "where," along with unique words, such as "frightened" in Little Miss Muffet. Students will engage in hands-on activities like writing words in sand, building words with letter tiles, and moving a car to blend the letters. Based on the public domain book, The Natural Method Reader: Primer, students will apply the sight words they learned in the poem to read prose stories. In the sound lessons, students will explore short and long vowel combinations, consonant blends, and diphthongs.
The lessons are short and designed for you to work at your child's pace.
These lessons are recommended for beginning readers in first grade and up.
Please note: The workbook is black/white with a color cover. The letter tiles and work building mat are in color. You can try the first 10 lessons free HERE and get the sample flash cards HERE.
You will receive the following in the Sight and Sound Kit:
100 Gentle Lessons in Sight and Sound Lesson Plan Book: Over 200 pages of open and go lessons filled with rhymes, stories, copywork, and activities
Sight Word Flashcards: 25 cardstock pages of cards to cut and use for the lessons
Word Building Mat: Color, glossy cardstock mat to use for word building
Letter Tiles: Color, glossy cardstock letter tiles to use for word building
Why "sight and sound"?
"In the first place, let us bear in mind that reading is not a science nor an art. Even if it were, the children must still be the first consideration with the educator; but it is not. Learning to read is no more than picking up, how we can, a knowledge of certain arbitrary symbols for objects and ideas. There are absolutely no right and necessary 'steps' to reading, each of which leads to the next; there is no true beginning, middle, or end. For the arbitrary symbols we must know in order to read are not letters, but words. By way of illustration, consider the delicate differences of sound represented by the letter 'o' in the last sentence; to analyze and classify the sounds of 'o' in 'for,' 'symbols,' 'know,' 'order,' 'to,' 'not,' and 'words,' is a curious, not especially useful, study for a philologist, but a laborious and inappropriate one for a child. It is time we faced the fact that the letters which compose an English word are full of philological interest, and that their study will be a valuable part of education by-and-by; but meantime, sound and letter-sign are so loosely wedded in English, that to base the teaching of reading on the sounds of the letters only, is to lay up for the child much analytic labour, much mental confusion, due to the irregularities of the language; and some little moral strain in making the sound of a letter in a given word fall under any of the 'sounds' he has been taught.
Definitely, what is it we propose in teaching a child to read? (a) that he shall know at sight, say, some thousand words; (b) That he shall be able to build up new words with the elements of these. Let him learn ten new words a day, and in twenty weeks he will be to some extent able to read, without any question as to the number of letters in a word. For the second, and less important, part of our task, the child must know the sounds of the letters, and acquire power to throw given sounds into new combinations.
What we want is a bridge between the child's natural interests and those arbitrary symbols with which he must become acquainted, and which, as we have seen, are words, and not letters." - Home Education, pg. 215-216
Your child will delight in the following activities:
Learning sight words through nursery rhymes
Word building and phoneme manipulation with letter tiles
Sequencing rhymes
Reading prose stories with confidence based on the words they have already learned through sight and sound lessons
Copywork
Games                           and more...
The 100 Gentle Lessons in Sight and Sound Level 1 kit comes either as a digital download or you can get a printed copy.
This is the digital product. Nothing will be shipped to you.
PLEASE NOTE: Digital products are non-refundable. Also, all Digital products expire after 30 days, please download to your computer.
"This is a gentle and easy to use early reading program that uses well-known nursery rhymes to teach reading with a combination of both phonics and sight words.  The lessons are short, effective, and enjoyable. They are the perfect fit for a Charlotte Mason based education." - Amber
"Yes, we are enjoying The Gentle Lessons in Sight and Sound very much. It is easy to do and accomplishes a lot in short lessons. On a personal side note our daughter that we are using this with is adopted from China. She has a repaired cleft lip and palate and has been in speech for several years. This has been working wonderfully for her and she is gaining a lot of confidence in a very short time, which makes us happy for her. She has said phonics is her favorite subject! (It's really her only one for now other than sitting in with her brother in Form 1)." - Carrie W.
"Before using 100 Gentle Lessons in Sight and Sound, I struggled teaching my son to read. And it wasn't him! And it really wasn't me. I knew deep down it was the tools we were using. We started in preschool with All About pre-Reading and he became a phonics master. Then in Kindergarten we started All About Reading 1. We struggled. The lessons were laborious for both of us. And he wasn't progressing. I knew we needed help. In the summer before first grade, we worked with a dear friend who was a reading instructor, who identified he had so many gaps in his reading readiness. He was so phonics heavy, he couldn't read. We needed to switch curriculums. After using two different other curriculums, I had so much stress and anxiety over the last couple of years trying to teach my son to read. I was really afraid I wasn't going to be able to do it. Then I discovered A Gentle Feast's 100 Gentle Lessons in Sight and Sound. I prayed this was our solution. We were already using A Gentle Feast's White Year and I had grown to love and trust Julie as she nurtured us in her Facebook group. I knew I could access her if I needed help. And I am delighted to report that my son is not only doing great, he LOVES it! These old, familiar rhymes hold his attention. He always wants to know what rhyme we are doing next. I love that each poem gently builds upon the previous poem. Julie has done a great job adding in activities that build upon the reading. Each day we just open up to the lesson and we are done in 15-20 minutes. No planning. No prep (except for the initial printing of the flash cards). We are on Lesson 85 and I'm already asking Julie for Volume 2." - Katrina Sequenzia, Homeschool mom of 2 (ages 7 and 13)
Want more information? This video explains Miss Mason's philosophy and how to know if your child is ready for formal reading lessons.