Christmas Around the World Printed Bundle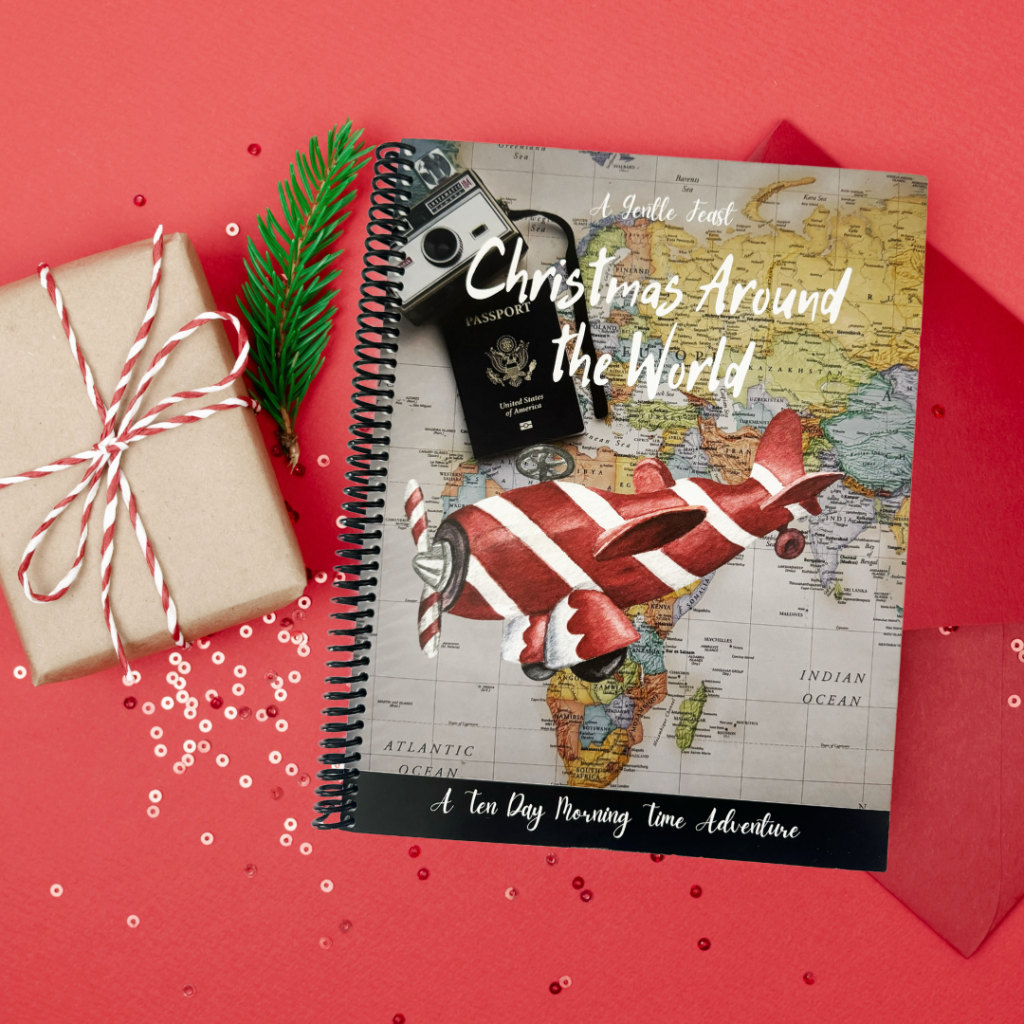 🌍 Embark on a Global Holiday Adventure 🌍
Are you ready to infuse your homeschool mornings with the magic of Christmas traditions from around the world? Look no further! Our "Christmas Around the World" packet is your passport to an enriching, multicultural learning experience that your family will treasure.
🎄 What's Inside? 🎄
📚 **10 Fascinating Countries**: Explore the vibrant tapestry of Christmas customs in 10 diverse countries, from the snowy landscapes of Scandinavia to the warm rhythms of Nigeria. Each country comes with a video of background information! Included countries: Russia, France, Japan, Spain, England, Nigeria, Sweden, USA, Germany, and Mexico!
📖 **Captivating Stories**: Immerse yourselves in heartwarming stories that transport you to far-off lands, sharing the unique tales and legends that define each nation's holiday spirit.
🎶 **Joyful Songs**: Delight in the melodies of Christmas as you sing along to traditional carols and songs from different corners of the globe.
🎨 **Creative Crafts**: Get hands-on with festive crafts that bring cultural traditions to life. Craft beautiful ornaments, decorations, and keepsakes that reflect the essence of each country. And the best part- each country comes with a craft video tutorial!!! Watch a free tutorial HERE.
🍽️ **Culinary Delights**: Discover the flavors of Christmas with easy-to-follow recipes inspired by international cuisine. From German Vanillekipferl to Mexican Hot Chocolate, your kitchen will be filled with delightful aromas.
***Additional Picture Books***: This packet INCLUDES beautiful stories for each country, but we also provide additional picture books suggestions for each country to enhance your experience.
👨‍👩‍👧‍👦 **Family Bonding**: Strengthen family bonds as you share these cultural treasures with your loved ones. Learning together is a gift in itself. This packet can truly be enjoyed by all ages!
📜 **Charlotte Mason Approved**: Our packet is designed with the Charlotte Mason philosophy in mind, ensuring that your homeschool experience aligns with the principles of living education.
***You will be blown away by ALL that is included in these 150 pages***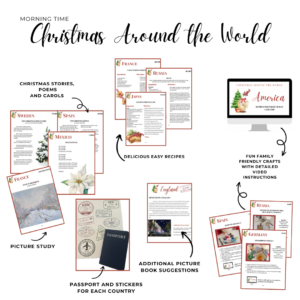 Each kit also comes with ***Passport and Stickers***: Each set comes with a passport and one set of stickers. If you would like to order an additional set, you can do that here. Make your child excited to embark on this wonderful trip with their very own passport!
🌟 Why Choose "Christmas Around the World"? 🌟
✨ Enriching Education: Broaden your children's horizons and foster an appreciation for the beauty of our diverse world.
✨ Meaningful Traditions: Create lasting memories and traditions that your family will cherish for years to come.
✨ Easy-to-Follow: Our step-by-step guides make it simple for parents and children to dive into the rich tapestry of global festivities. Don't forget to check out our handy QR code at the beginning of the packet with all your hyperlinks in one easy location.
✨ Homeschool Harmony: Seamlessly integrate this packet into your Charlotte Mason homeschooling routine, enhancing your curriculum with engaging, hands-on activities. There are 10 different countries so you can decide how you want to schedule them. Some families do one or two countries per week all Advent season. Others, simply replay their normal school lessons with this material the two weeks leading up to Christmas.
🎁 Give the Gift of Knowledge and Culture 🎁
This holiday season, unwrap the world with "Christmas Around the World." Join us on this educational journey that celebrates the universal spirit of giving, love, and togetherness.
🌐 Don't miss this opportunity to connect with cultures, share stories, and embrace the magic of Christmas worldwide. Quantities are limited! Order your packet today and make this Christmas season truly extraordinary! 🌐
Additional information
| | |
| --- | --- |
| Weight | 2 lbs |
| Dimensions | 11 × 8.5 × 1 in |