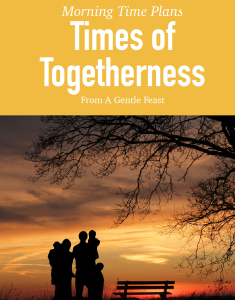 Are your homeschool mornings lacking inspiration and structure? Transform your daily routine into a delightful adventure with our Times of Togetherness Morning Time Packet! 🏡📖
Embrace the enchantment of each day with beautiful art, music, and poetry. Our Morning Time Product integrates the arts into your homeschool routine, nurturing creativity and appreciation for the finer things in life.
🌟 Key Features:
-4 weeks of hyperlinked lesson plans
-Copywork Passages: Beautifully chosen meaningful passages for a variety of ages
- Artistic Inspiration: Dive into the world of renowned artists and composers.
- Connection and Conversation: Strengthen family bonds through meaningful discussions sparked by our thoughtfully chosen materials.
-Curated Book Selections: See my list of books to help build family relationships.
🏆 Why Choose Us?
- Expertly Curated: Our team of educators and artists carefully selects each resource to ensure quality and enrichment.
- Easy to Implement: Seamlessly integrate our Morning Time Product into your existing homeschool routine.
- A Lifetime Investment: Nurture a love for learning, beauty, and family connections that will last a lifetime.
Join countless families who have already transformed their mornings into magical moments. Elevate your homeschool experience and create lasting memories with our Times of Togetherness Morning Time packet! 🌅📚✨
Don't miss out on this opportunity to infuse books and beauty into your mornings. Act now and make every morning a masterpiece! 🌟📖