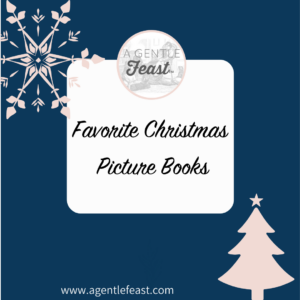 I have a confession when it comes to Advent traditions. I love them because of the routine and comfort they bring to our family during a busy season, but sometimes they can be a little overwhelming and by December 12th I wonder how I'm going to make it through. This Advent tradition is one that I have consistently done for the past 14 years. I think that probably has something to do with my personality. I love reading. So naturally it is easy for me to share that love with my children. I don't have to break out any glitter or run around town to holiday activities for this. I simply collect books (love), sit around the fire with my children close by (love), and get to share the joy of language with them (love). All that to say, you may love to do this with your family and you may not. Pick what you love and it will be an easy tradition to keep.  🙂
I first read about this idea in a Good Housekeeping magazine back when my oldest (almost 16- sniff) was just a toddler. The article was interviewing Laura Bush (a former librarian) about Christmas traditions and she shared about the 24 books she would wrap and read nightly to her children leading up to Christmas. I thought it was such a splendid idea. I went to Goodwill and cleaned out their children's Christmas book section and went to the library for some more titles. That first year the books were very simple- Barney's Twelve Days of Christmas, little counting books, touch and feel Christmas, etc. I decided I would invest in one Christmas book each year till I could build up my collection. As more children joined the family and my daughter advanced in years, so did the books. I now own about 50 Christmas books. I have those "light" books still in a separate basket which I keep out all season for the kids to look at and enjoy. The books I wrap are now 24 carefully chosen books that are delight of living ideas, beautiful pictures, and sweeping literary language. Even though my youngest just turned 6, his attention for books has increased such that he enjoys some of the heftier works.
I wanted to share with you the 24 titles we will be reading this year. I know this has become a popular Advent tradition (thank you Pinterest).  But, I would offer this small bit of advice: only invest in books that are of high literary quality. You can get plenty of lighter titles at the Library. The ones you will want to keep for generations are the ones that draw you in with the power of story and beauty. We don't own Barney's Twelve Days of Christmas anymore. Even though my daughter was into Barney when she was two, that interest quickly faded (thank goodness) and I was left with a book that really wasn't one I wanted to continue reading. The books I am sharing with you in this list, I consider timeless and ones that can be enjoyed by all ages.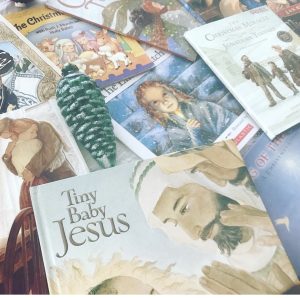 1. Josie's Gift by Kathleen Bostrom- If you can only purchase one Christmas book, this would be my recommendation. This story takes place during the Great Depression and tells the story of girl named Josie and her wish for a blue, pearl-buttoned sweater. It is the first Christmas since her father passed away and she is trying to figure out how to celebrate Christmas without him. Questions we often ask during the holiday season  after loss and our search for meaning/significance are explored through this touching tale. I read this book when I taught kindergarten, so even though it is not a typical book for this level, all ages can truly enjoy. Have the tissues ready as the ending will pull on your heart strings.
2. The Christmas Miracle of Jonathan Toomey by Susan Wojciechowski – If you can swing two books, buy this one as well and probably an extra box of tissues. This is the story of Jonathan Toomey, the best woodcarver around who is always alone and never smiles. It takes a widow, a small boy, and the carving of a wooden nativity to change Jonathan's heart.
3. Song of the Stars- A Christmas Story by Sally Lloyd-Jones– Sally Lloyd-Jones is famous for her Jesus Storybook Bible. Her writing draws children in and this story is no different. This is a simple narrative that goes through the anticipatory response of creation as the world prepares for the coming of the Messiah. Though simple, Sally's command of language and the lyrical poetry quality of her prose makes this book a delight to read aloud. Sometimes, the simplest reminders are needed by us all.
4. The Year of the Perfect Christmas Tree by Gloria Houston- This books takes place in Appalachia and involves a little girl who is worried about getting the perfect Christmas tree for their church as it her family's turn to provide the tree and her father hasn't returned from war. Simple reflections on family and the heart of giving.
5. The All-I'll-Ever Wanted Christmas Doll by Patricia C. McKissack  (Author), Jerry Pinkney (Illustrator) –Do you have children that struggle with sharing, this story of three sisters during the Depression is a great reminder that family is always more important than things. The illustrations by Jerry Pinkney are fantastic!
6. This is the Star by Joyce Dunbar– This simple retelling of the Christmas Story is fashioned in the manner of The House That Jack Built. The repetitive phrases make this book a favorite with the younger crowd.
7. Twas the Night Before Christmas illustrated by Jan Brett–This famous poem is brought to life by one of my favorite children's authors/illustrators. This book is illustrated in her popular technique of giving the children a clue of what is to come through sidebar images. My children love being able to try to guess what is next. Of course, this poem is a classic that your children will probably be quoting for days to come.
8. The Gingerbread Baby by Jan Brett- There are many retellings of the famous Gingerbread story out there. This one is my favorite mostly because of Jan's incredible illustrations. The ending is a surprise to children who have learned the traditional story. This story is just begging for some gingerbread men to eat along with it. I have had years where I bought the pre-made ones that Little Debbie produces (no shame).
9. The Gift of the Christmas Cookie by Dandi Daley Mackall- This story takes place during the Great Depression. A young girl learns the history of the cookie tradition and her heart is softened to meet the needs of a poor traveler above her own.
10. Tiny Baby Jesus by Dandi Daley Mackall- The illustrations in this book are breath-taking. This story compares the baby Jesus to the man Jesus. Though simple, this comparison is extremely profound. I think during this season it can be easy to focus solely on the nativity and miss the importance of the completed work of Christ. This story is easily understood by children while being thought provoking for mamma as well.
11. Listen to the Silent Night by Dandi Daley Mackall- I don't know about you, but sometimes the idea of a silent night seems a little unrealistic in my home. This book describes how not silent the night of Jesus's birth was. Little children will love making all the animal noises.
12. The Legend of the Candy Cane by Lori Walburg– This book has become quite popular. It is the story of the meaning of the candy cane and the story of a girl in a small town in a time long gone.
13. Christmas in Noisy Village by Astrid Lindgren– If this author sounds familiar, you have probably read Pippi Longstocking (one of my childhood favorite books). In this delightful tale, Lindgren describes the Christmas traditions in this rural, Swedish village. The pictures have a vintage 60s feel and are absolutely delightful. There are some heavier books on this list and it is good to add this fanciful book in the mix for some light-hearted cheer.
14.The Donkey's Christmas Song by Nancy Tafuri– This is a book for the younger crowd. My littles always loved making the animal noises as all the animals sing to baby Jesus, except the Donkey who is too afraid.
15. The Christmas Angel by Hans Wilhelm- Mr. Whilhelm wrote over 200 children's books. He knows how children think. This book illustrates his knowledge of children as they all can relate to the being the "little" one who doesn't get to participate. In this tale, a little angel wants to bring Jesus a present, but he's too young to travel with the other angels. After he accidentally falls to Earth, he gets his chance.
16. Tallulah's Nutcracker by Marilyn Singer– If you have a little ballerina in your life, the Tallulah ballet series is a must. This nutcracker tale is no exception. Tallulah is overjoyed when she gets the part of a mouse in the Nutcracker, but the night of the performance disaster strikes and Tallulah wonders if she has what it takes to be a real ballerina.
17. Christmas Tapestry by Patricia Polacco– Patricia Polacco is one of my favorite children's authors/illustrators. Her stories are always full of profound truths and touching characters. This story is no different. Jonathan moves with his family from TN to Detroit so his dad can start a new church, and Jonathan is not very happy about it. They finally get the church ready for Christmas when a terrible storm damages the front of the church. In attempt to find something to cover the hole, Jonathan and his father stumble upon a tapestry at an antique store which will weave together the lives of many characters in a profoundly touching manner.
18. Silent Night by Will Moses– Will is a fourth generation folk artist who's illustrations resemble his ancestor's, Grandma Moses. So this work is worth reading for the illustrations alone. Of course, the story is also delightful and will take you to the land of rural Vermont and the story of the Miller family.
19. The Crippled Lamb by Max Lucado- So don't throw tomatoes, but I'm not a huge fan of Max Lucado's children's books. But this is one of the exceptions. I love the oil painted illustrations. I think we can all relate to the feeling of being left out or different. Maybe it's just me, but I need the reminder of the love and acceptance of Christ. This books always deeply touches me.
20. Christmas in the Big Woods by Laura Ingalls Wilder– Of course, no reading list is complete with out my beloved Little House:). The illustrations of these picture books, taken from her novels, are incredible and remind me of the Garth Williams illustrations I loved as a child in the original works.
21. The Gift of the Magi by O. Henry, illustrated by P.J Lynch- This is the most challenging story in the list. It may be something you split over 2 readings if you have squirmy littles. This is the timeless tale of Della and her husband Jim who are too poor to buy each other Christmas gifts and the sacrificial love they show. The illustrations are equally powerful bringing this poignant story to life with clarity and warmth.
22. The Gingerbread Pirates by Kristin Kladstrup– O.K. So this isn't a literary masterpiece, but it is my son's favorite Christmas books so it will remain in the basket as long as it endears him. It is Christmas Eve and Jim and his mom make Gingerbread pirates to leave for Santa. In the night, the cookies come to life led by Captain Cookie who attempts to rescue them from being ate by the cannibal in the red suit. Cookies, danger, and pirates…what else does a small boy need in a story?:)
23.The Polar Express by Chris Van Allsburg- The illustrations in this book are incredible. I didn't care for the movie, but the book is a classic which continually captures the imagination.
24. The Christmas Story with Ruth J.Morehead's Holly Babes– We have read this one on Christmas Eve as long as I can remember. It is the simple Christmas story. I bought it for pennies at Goodwill 15 years ago, but there is something about the cute little holly babes and the profound simplicity of all of it. My 13 year old told me this was her favorite. I think she loves traditions like her mother:).
25. The Story of Holly and the Ivy by Rummer Godden- This is the tale of Holly, Ivy, and Mr. and Mrs. Jones. They all have a Christmas wish. As this endearing plot enfolds, their lives and wishes come together. Barbara Cooney's illustrations are stunning, as always, adding the perfect charm to this touching tale.
My Favorite Christmas Chapter Books
1.Jotham's Journey: A Storybook for Advent by Arnold Ytreeide – In this engaging story, great for middle readers, ten year old Jotham travels across Israel and runs into wise men, shepherds, and, eventually, a baby in Bethlehem.
2. The Light at Tern Rock by Julia Sauer – This short chapter book is great for the 2nd – 3rd grade crowd to read independently. Ronnie and his aunt are sent to take care of the lighthouse at Tern Rock.
3. A Tree for Peter by Kate Seredy – Not only does this book have all the feels, but it is a great piece of historical fiction set in "Shantytown" during the Great Depression. This one is a treasure and, luckily, back in print. Great for all ages. You will want tissues!
4. The Best Christmas Pageant Ever by Barbara Robinson – This book certainly needs to be read aloud, and there are things you will want to edit on the fly, but it is SO worth that effort. This book will make you laugh, cry, and be convicted all at the same time.
5. A Christmas Carol by Dickens – Because, DUH?! Everyone should read this book in some December of their life!
6. A Little House Christmas Treasury by Laura Ingalls Wilder – This is a charming collection of Christmas chapters from her various books. Nothing gives me all the Christmas feels like some Little House.
7. The True Gift by Patricia MacLachlan – This book is great for 2nd-3rd graders to read independently. It tells the story of a brother, sister, a white cow, and a lot of compassion. A great book to illustrate the impact of good decisions.
8. A Merry Christmas and Other Christmas Stories by Louisa May Alcott – A collection of tales from the author of Little Women, great for older readers.
9. The Christmas Doll by Elivra Woodruff – This middle grades chapter book is set in Victorian England. Told in the style of Dickens, this endearing tale follows the bonds of orphaned sisters. The chapters are short and the plot moves quickly. Great for fans of the American girl books!
10. Letters From Father Christmas by J R R Tolkien – So the man who brought us such vile creatures as Gollum, Orcs, and Saruman was also a father who wrote letters to his sons each Christmas as "Father Christmas." These letters are short and so adorable, though there isn't much of a plot. This book would be a great tie-in to studies of the 1920s – 40s.
11. One Wintry Night by Ruth Bell Graham- The chapters in this book are short. This story points children to Christmas from Bible stories ranging from Creation to Redemption.
12. Nancy and Plum by Betty MacDonald- It was Christmas Eve. Big snowflakes fluttered slowly through the air like white feathers
and made all of Heavenly Valley smooth and white and quiet and beautiful. So begins the story of two orphaned sisters at Mrs. Monday's Boarding School. But nothing is heavenly for Nancy and Pamela (aka Plum): their parents died in a tragic accident years ago, they're constantly punished by the cruel Mrs. Monday, and they're all alone for the holidays.
14. The Christmas Stories of George MacDonald – I love George MacDonald's writings for children. They aren't easy to read, the language being unfamiliar, but there are SO many riches in his words. There are some deep character lessons in these stories for those willing to dig through the older language.
15. Christmas with Anne by L.M. Montgomery – Like the Little House compilation, this is a collection of Christmas chapters from the Anne series and several of Montgomery's other works. If you or your child love Anne, this is a nice collection to have on hand.
16. The Life and Adventures of Santa Claus by Amelia C.Houghton – Republished by Yesterday's Classics this chapter book takes you through the story of Saint Nicholas, who went from being an orphan to the legend we know today. Note, this is different from the Frank Baum book with the same title (which I don't recommend)
17. The Nutcracker by ETA Hoffman – Older students will enjoy this classic tale that inspired this famous Christmas tradition.
Wising you and your family a delightful and literary Christmas.
This post contains affiliate links. This means if you purchase any of the books above through the direct Amazon links, I make a small percentage. Thank you for fueling my book addiction!